23 mai 12
Again a new 3 and 4 deck mix on techno minimal and techno US.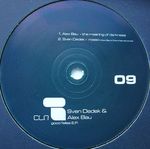 I promise to play something different next week...
Et pour les fans qui ont eut du mal à sortir des Nuits Sonores de Lyon, l'avant dernière plaque c'est bien Richie Hawtin (You know the score guys ;-) ) Rich. qui sera d'ailleurs en concert au Grand Palais (Paris) le 21 juin puis au terminal 4 (Paris encore) le 7 juillet. Aussi à Sonar à Barcelona, Spain le 15 juin (festi du 14 au 17).
Richie Hawtin sera aussi à lyon le 8 juillet ! En aprem (tram porte des alpes) avec quelques survivants de minus [Merci pour l'info Yvo ;-) ]
A last message before leaving the mix to your ears: welcome to all of you from Italy ;-)
La play_list numérique :
Dosem - Unusual - 2008
Osc - The Difference - 2008
Cj Tari - Experimental - 2010
Alex Bau - Bass Is A Fulltime Occupation - 2010
Greencross - Redwire - 2008
Alberto Brichuk - 090418 - ??
Audio Injection - Break the Woofer - 2008
Dario Acosta - Reflejos - 2010
Thomas Schumacher - inside - 2005
Jon Doe - See Me In Luv (Dandi & Ugo Remix) - 2007
Green Velvet - Preacher Man - Music Man Rec. - 1998
Et la play_list vinyl :
Woody McBride - Communique Records - 2006
Mickiee - Torema Records - 1995
Mould Impression - Primate Recordings - 1996
Damon Wild - Communique Records - 1995
Green Velvet - Music Man Records - 1998
Gennaro Le Fosse - Convolute Records - 2002
Marco Bailey vs Redhead - Kobayashi Recordings - 2000
Rozzo - Bush - 1995
Lab Insect - Elektrofon - 2003
Danilo Vigorito - Bush - 2002
Alex Bau - CLR - 2002
Cyborg X - Cluster Records - 1997
Umek - Spiel-Zeug Schallplatten - 1999
Julian Jeweil - Plus 8 Records Ltd - 2011
Richie Hawtin - Plus 8 Records Ltd - 1997
S.R.I. - Force Inc. Music Works - 2001
Commentaires sur Again techno on 3 decks